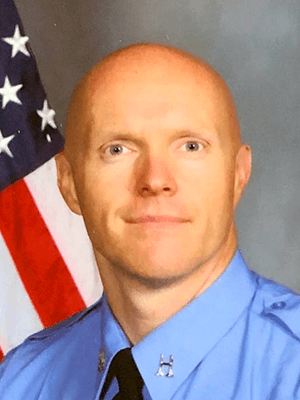 James Satterfield
Technical Instructor Trainer, Fire Safe
Over 17 years experience in emergency response.
Life passion for emergency rescue.
James Satterfield is a professional safety trainer for Fire Safe. Satterfield is an active fire captain with the Danville Fire Department in Danville, Virginia. He has worked with the department since 2003 with six and a half years as a training division lieutenant. As a training division lieutenant, he was the shift safety officer on all high-profile responses. He has maintained continuous membership on the department's Technical Rescue Team since 2004, serving as the A-Shift team leader. He was promoted to captain in 2019.
Satterfield has served as an adjunct instructor with the Virginia Department of Fire Programs since 2010. He continues to provide courses for fellow emergency responders throughout the Commonwealth. He is credentialed to teach: Basic Pump Operations; Emergency Vehicle Operations; Firefighter Level 1 and 2; Firefighter Rescue Training; Fire Officer Level 1 and 2; Hazardous Materials Awareness and Operations; Introduction to Technical Rescue; and Vehicle Rescue.
Satterfield holds numerous professional endorsements through the Virginia Department of Fire Programs. His technical rescue certifications include: Confined Space Rescue Technician; Machinery Rescue; Rope Rescue Technician; Surface water and Swiftwater Rescue Technician; Trench Rescue Technician; and Vehicle Rescue Technician. In 2011, he certified as a Structural Collapse Rescue Technician through FEMA's USAR Task Force 2, Virginia Beach, Virginia.
Satterfield is a 2008 graduate of the Virginia Fire Officers Academy, hosted by the Virginia Fire Chiefs Association. He is a graduate of the National Fire Academy's Command and Control of Incident Operations course. In 2021, he obtained Fire Officer designation from the Center for Public Safety Excellence.
Under the Virginia Department of Health's Virginia Office of Emergency Medical Services (VOEMS), Satterfield has been trained as an Advanced Life Support provider at the Intermediate level since 2002. He has served as an VOEMS Education Coordinator since 2005. Satterfield has taught numerous EMT and Advanced EMT courses in the Danville area. He is a credentialed American Heart Association CPR instructor.
Satterfield began a distinguished career in emergency response in 1996 when he joined Laurel Grove Volunteer Fire-Rescue, Inc., a local all volunteer fire department, as a junior member. He has served as a department training officer, fire captain and assistant chief. He is currently an active life member of the department.
In the county, Satterfield is a founding member of the Pittsylvania County Special Operations Team. He was the team's first chief in 2010. He has served as a Den Leader for Cub Scout Pack 372, Ringgold Baptist Church, since 2019.