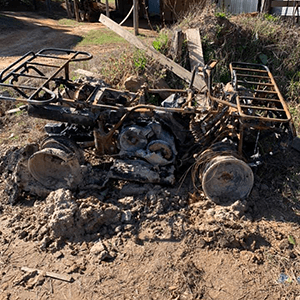 Fire extinguishers are not limited to homes and structures. Vehicle mounted fire extinguisher units provide quick access to fire suppression on the go.
Recreational All-Terrain Vehicles (ATV) are a lot of fun and some are very expensive. Smaller mobile fire extinguishers are a great tool to have while blazing through the trails.
Vehicle mounted fire extinguisher units can prevent the destruction of an ATV in the event of a vehicle fire, especially if you're too far from easy fire fighting coverage. Limiting fire damage will protect your ATV and get you back on the trail sooner.
Fire Safe provides smaller, vehicle mounted fire extinguishers through Commonwealth Home Health Care at 479 Piney Forest Road, Danville, Virginia. If you have questions about the right extinguisher for your vehicle, give us a call at 434-793-6255.