A heart attack can occur anytime, anywhere, with anyone, at any age. An Automated External Defibrillator (AED) is a first responder device that provides advanced heart attack care from a box. An AED is packed with technology designed to be simple to use in an emergency situation.

Fire Safe Safety Services (Fire Safe) provides heart defibrillator sales and service to individuals and businesses seeking to strengthen their on-site emergency medical capabilities. There are several different types of AED medical devices manufactured and supported by a wide range of companies.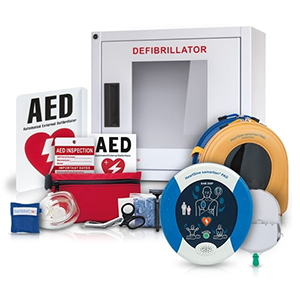 While all AEDs are designed to be simple and easy to use, many have designs better suited for specific situations. For example, heart defibrillators designed for business, home, school, or public events will be configured differently from those used by emergency medical professionals and fire rescue. Fire Safe can help determine which AED is the best option.
Providing Coverage
Fire Safe works with businesses to determine the right defibrillator for a specific workspace. Large operational workspaces with great distances to travel may require more than one easily accessible AED. Fire Safe can ensure your area is adequately protected.
AED Sales & Rental
Fire Safe provides new AED systems from top OEMs. Brands include Cardiac Science, Defibtech, Heartsine, Philips, and ZOLL Medical. AED supplies include new AED pads, batteries, carrying cases, wall mounts, and more. Fire Safe AED systems are available for direct purchase or rental. There are cost savings and other advantages in this decision. For example, rental units can be upgraded easier but require an ongoing cost. Fire Safe can advise a partner on the best route of the expected mission.
AED Service
Fire Safe can install your AED system and ensure it is ready for operation. Fire Safe will service your defibrillator on a set AED maintenance schedule to verify the unit is ready to go, that there is no damage to the unit, and if the unit is still adequate for its mission. If an AED is used, Fire Safe can return a unit back to its operational ready state. Fire Safe will provide a loaner AED while the service is performed so your coverage is maintained.
Training
AEDs are simple to operate, but training is strongly encouraged to build lay responder confidence in the device. Fire Safe can provide instruction on its use, as well as provide CPR training for your staff. There are practice AED systems that are created for training purposes.
Yes. They really do work. The Automated External Defibrillator has provided lay responders the ability to provide critical medical care in the event of a heart attack. The AED success rate is high when employed quickly and correctly. Cardiac arrest victims who received a shock from a publicly-available AED had a far greater chance of survival and being discharged from the hospital than those who did not; 66.5 percent versus 43 percent.
The AED is a very unique piece of lifesaving equipment. There are few options. Fortunately, there is some serious technology behind its continued development. Modern AED systems continue to improve while their cost continues to drop. Current AED systems are extremely capable and have a much lower cost than the first generation heart defibrillator systems.
While generally not required for most businesses, a modern AED system is needed like a fire extinguisher. It is there and ready, and you hope you never need to use it. In a medical crisis, the AED protects employees and customers alike. In Virginia, legislation was passed in July 2020 mandating AED units in healthcare facilities and gyms. Some insurance companies also encourage their clients to make AEDs accessible.
Contact Fire Safe
Fire Safe Safety Services is a provider of instructional safety training and fire equipment services. Fire Safe is an active member of Avetta and Compliance Engine. We answer questions. Please call 434-793-6255 during our regular business hours or connect 24/7 with our Request Service form.