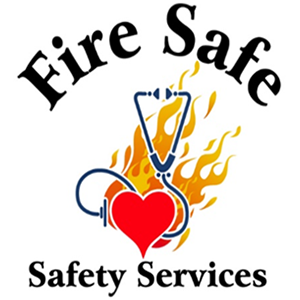 Superior workplace safety begins with the individual. Employees with basic safety training are in position to mitigate loss of life and provide the vital first link in the emergency response chain. Employees with proper health and safety training allow industrial employers to successfully meet governmental regulations and their insurance obligations.
Live Courses, Experienced Instructors
Fire Safe Safety Services (Fire Safe) provides a wide range of live safety training courses for both interested individuals and businesses. Fire Safe courses emphasize hands-on practical applications as they relate to a particular business or industry. Employees learn better with context. Our courses are very popular against online, figure-it-out-yourself training options. As a 3rd party compliance/reporting firm, Fire Safe travels anywhere in the continental U.S. Our instructors are highly qualified to teach their subjects. Fire Safe is a member of Avetta and Compliance Engine.
Fire Safe First Responder and Safety Training courses are open to anyone, but our safety programs are primarily geared for government and business interests. Our safety schools training includes:
All Fire Safe training is conducted live and in-person.
Fire Safe instructors have subject mastery and real-life experience.
Fire Safe designs custom courses that fit a partner's specific legal and training needs.
HSI & ASHI Safety Training Certification
Health & Safety Institute (HSI) is a nationally accredited training organization comprising three emergency care training companies. These include the American Safety and Health Institute (ASHI), MEDIC First Aid, and 24-7 EMS. Fire Safe, and its parent organization Commonwealth Home Health, operates a certified ASHI Training Center that is umbrellaed under HSI.
HSI's emergency care training and professional continuing education programs are currently accepted, approved or recognized as meeting the requirements of more than 7,000 state and federal regulatory agencies, occupational licensing boards, national associations, commissions, and councils in more than 550 occupations and professions.
Health and Safety Courses
Please contact Fire Safe to schedule your safety training sessions. Group training and rates are available. Fire Safe offers the following ASHI courses:
HSI and its training companies ASHI, MEDIC First Aid, and 24-7 EMS are not in competition with ARC and AHA. HSI offers courses in-line with ARC and AHA guidelines. ASHI differs by creating a clear pathway to EMS training and certification. ASHI offers an intermediate level of advanced training which strengthens first responders.
There is no lifetime certification course offered by ASHI, ARC, AHA, or many other safety organizations. Safety science is always evolving based on field experience and lessons learned. The most lengthy certifications are three years, but most are one year in order to share new methods and approaches.
Most employers will pay for your course and materials if you're required to take the course based on the terms of your employment. Individuals would need to pay for a course directly.
Contact Fire Safe
Fire Safe Safety Services is a provider of instructional safety training and fire equipment services. Fire Safe is an active member of Avetta and Compliance Engine. We answer questions. Please call 434-793-6255 during our regular business hours or connect 24/7 with our Request Service form.