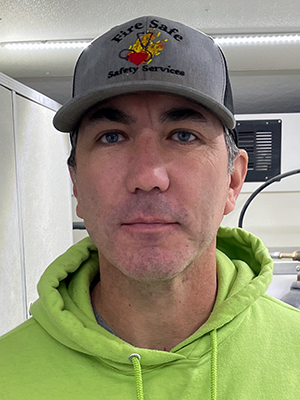 Chris Blevins
Senior Technician, Fire Safe
Over 20 years experience in emergency response.
Fire Captain.
Entrepreneur.
Customer Service focused.
Chris Blevins founded Fire Safe in 2002. Originally named Fire Safe Extinguisher Service LLC, the business began servicing business fire extinguishers and keeping their maintenance records. Blevins is responsible for contracting with many of the firm's major industrial partners. He continues to provide exemplary service for them.
Blevins sold Fire Safe to Commonwealth Home Health Care in 2011, and remains on staff with Fire Safe. Fire Safe is now a division of Commonwealth Home Health Care.
Blevins was employed by the City of Danville, Virginia fire department in 1997. He joined the department's Technical Rescue Team in 1998, and has remained a member of that team. He has acquired numerous technical training certifications. These certifications include: EMT-B, Confined Space Tech, Heavy Vehicle Rescue Tech, Trench Rescue Tech, Rope Rescue, and HAZMAT Operations.
Under guidance from the Commonwealth's Virginia Department of Fire Programs (VDFP), Blevins has attained certification as a VDFP Instructor 1, VDFP Fire Officer 1, and VDFP Incident Safety Officer. He is a 2018 graduate of the Virginia Fire Officers Academy. He was promoted to Fire Captain in 2015, and remains serving both the City of Danville and Fire Safe.